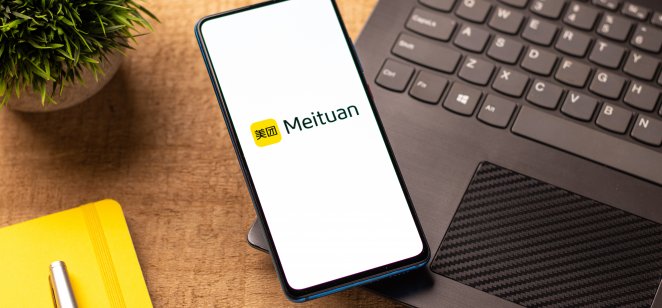 The share price for Chinese online food delivery and retail giant Meituan (3690) has climbed to its highest level since August, as the Chinese government shows signs of relaxing its zero-Covid policy that has weighed heavily on economic activity.
The Hong Kong-listed stock has gained 56% since it bottomed out in late October. In late November the company reported a return to profit and a higher-than-expected revenue growth for the September quarter.
Meituan (3690) live chart
What is the outlook for the stock as China's Covid-19 policies shift to a new stage? Where do analysts see it trading in the future? We take a look at the company and the latest share price forecasts.
What is Meituan?
Founded in March 2010 by Chinese entrepreneur Wang Xing, Beijing-headquartered Meituan merged with review site Dianping.com in 2015. Meitun has expanded to become an online shopping platform for local consumer products and retail services, including cinema ticketing, hotel and travel booking, ride hailing and food delivery.
Meituan received investment from Chinese social media and gaming firm Tencent Holdings (0700). It was listed on the Hong Kong Stock Exchange (HKEX) under the ticker '3690' in September 2018, raising $42bn in its initial public offering (IPO). Meituan competes with Ele.me, which has received financing from Alibaba (BABA), China's largest ecommerce company.
What is your sentiment on 3690?
Vote to see Traders sentiment!
Meituan share price rises on easing China restrictions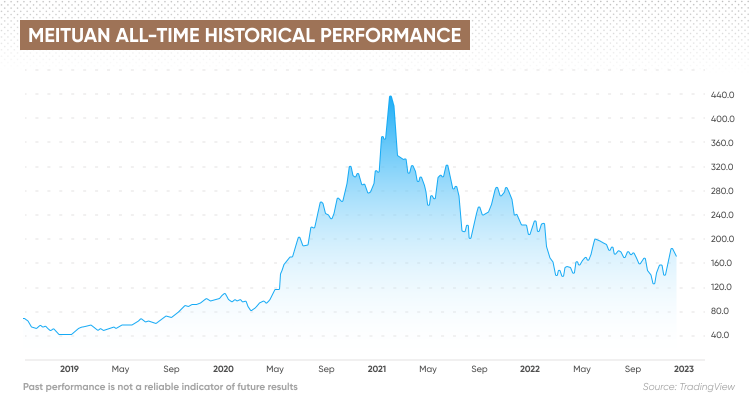 The Meituan share price peaked above HKD450 ($57.89) in February 2021, trending lower for the rest of the year to trade at HKD226 at the end of December. 
The price dropped to HKD106 in late March 2022, its lowest level since May 2020. The 3690 stock price briefly moved back above HKD200 in June, but declined again, reaching a low of HKD120.60 on 24 October.
Meituan traded up to HKD166.40 on 15 November, but retreated to HKD136.60 on 25 November.
On 16 November, Tencent said it would divest 15.5% of its $20.3bn 17% stake in the company through a dividend distribution to shareholders. Meituan said it would maintain its business relationship with Tencent, which has been reducing its holdings in other companies in response to the Chinese government's regulatory crackdown on technology companies and to take profits on its investments.
On 25 November, Meituan reported a 28.2% year-on-year (YOY) increase in its third quarter revenue to CNY48.8bn ($6.9bn), 0.4% higher than analysts' consensus estimates, according to Hong Kong based investment firm CMB International. 
Profit for the period came in at CNY1.2bn, compared with a loss of CNY9.9bn in the Q3 2021. The company reported that demand for its food delivery services continued to grow, and that the number of users, purchase frequency and retention rate had all increased year on year.
"We are convinced that local consumption will eventually return to its normal growth trajectory after the epidemic is over. We will continue to adhere to the 'retail + branch' technology strategy, with the goal of promoting cross-industry digital transformation," the company stated.
Meituan has been expanding in Hong Kong as a first move outside mainland China and a testing ground for an international expansion.
The 3690 stock price has since jumped to HKD188.50 at close on 9 December as Chinese cities began to relax Covid-19 restrictions, increasing the prospect of economic recovery and improving economic sentiment. The stock remained in negative territory for the year to date, down 15.6%.
Will the Meituan share price continue to rise, or is there potential for a retreat to previous levels? What is a realistic 3690 stock forecast? We look at the latest Meituan stock predictions below.
Meituan stock forecast: Where next for the Chinese retail stock?
Analysts are cautious in their outlook for the Meituan share price given the uncertainty around China's Covid-19 lockdown policies. According to the latest Meituan stock forecast analysis from Fitch Ratings on 2 December:
"Meituan's (BBB-/Negative) positive segmental operating profit showed an on-track recovery and investment discipline in 9M22, implying an improvement in cash generation. 
"However, a resurgence in local Covid-19 cases and China's subsequent containment measures pose uncertainty for the company's operation from 4Q22, especially for its in-store, hotel and travel segment, and could delay its recovery pace."
The average Meituan stock forecast from analysts is $208.79 a share, according to the Wall Street Journal, ranging from a low estimate of $115.20 to a high of $392.45. There were 42 buy ratings, six overweight ratings and one sell recommendation.
Analysts at CMB International revised their 3690 stock forecast slightly after the company's Q3 earnings report, from HKD220 to HKD216.40. 
"Recent pandemic resurgence nationwide likely brings short-term headwind to Meituan, and management aims to drive for continuous YoY profitability improvement through optimization in user subsidy and more efficient business operation for new initiatives. Taking the impact into account, we trim our DCF based TP by 2% to HK$216.4, but we remain upbeat on Meituan's LT development prospect given its established competitive edge in local consumer services market," the analysts stated in a note to clients on 28 November.
"[We] remain upbeat on Meituan's long-term development. Meituan has established a strong local fulfilment network, accumulated a large merchants base and group of loyal consumers with strong consumer mind share, which could help fend off competition and support long-term development. Future catalysts on stock price include: 1) consumption recovery; 2) better-than-expected UE improvement; and 3) potential business model evolvement of Meituan Select," the note added.
But the Meituan stock forecast from data provider Trading Economics indicated that the share price could fall from the current level to HKD178.30 by the end of the quarter and HKD162.78 in one year, based on its global macro models projections and analysts' expectations.
The Meituan share price forecast from AI Pickup projects that the share price will rise to an average of HKD218.75 in 2023 and peak at an average price of HKD223.84 in 2024. The website's Meituan stock forecast for 2025 estimates the share price could then begin to decline, averaging HK$201.71 per share.
Algorithm-based forecasting service Wallet Investor's Meituan stock forecast for 2023 estimates that the stock could drop from HKD148.825 in January to HKD41.846 at the end of the year. The price could then fall to HKD0.000001 by the end of 2024, according to the prediction.
Are you interested in reading Meituan stock forecasts to inform your trading? It's important to remember that analysts and algorithm-based forecasters can and get their predictions wrong.
We recommend that you always do your own research. Look at the latest market trends, news, technical and fundamental analysis, and expert opinion before making any investment decision. Keep in mind that past performance is no guarantee of future returns. And never invest money you cannot afford to lose.
FAQs
Is Meituan a good stock to buy?

Whether Meituan is a good stock for your investment portfolio will depend on your risk tolerance, trading strategy and how much you intend to invest.

Look at the latest market trends, news, technical and fundamental analysis, and expert opinion before making any investment decision. Keep in mind that past performance is no guarantee of future returns. And never invest money you cannot afford to lose.
Will Meituan stock go up or down?

The direction of the Meituan share price could depend on the Chinese government's Covid-19 policies and the prospect for recovery in the Chinese economy from the impact of lockdowns. It could also be affected by the company's financial performance.
Should I invest in Meituan stock?

Whether you should invest in Meituan is a decision only you can make depending on your personal circumstances. You should do your own research to take an informed view of the market.

 Look at the latest market trends, news, technical and fundamental analysis, and expert opinion before making any investment decision. Keep in mind that past performance is no guarantee of future returns. And never invest money you cannot afford to lose.
Related reading
https://capital.com/meituan-stock-forecast