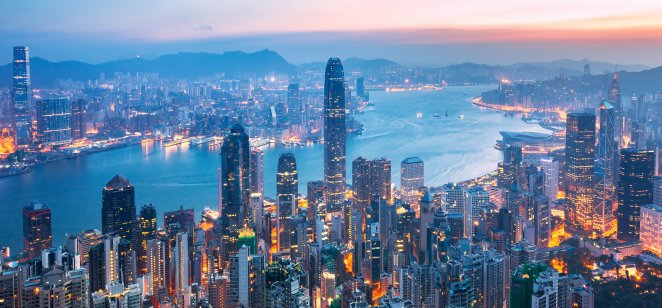 The housing market in Hong Kong remains the most expensive in the world. However, this may change in the future as a variety of headwinds, ranging from Covid-19 restrictions to rising interest rates, have resulted in more vacant residential properties and falling prices.
Since September, Hong Kong has gradually lifted its strict Covid-19-related travel restrictions, which was expected to spur mobility and housing demand. But will it prevent a Hong Kong housing price crash?
We take a closer look at factors driving the prices analysts' forecasts on the housing price crash in Hong Kong.
What is a house crash?
House prices, like all assets, rise and fall over time. At some point, house prices may exceed their actual value due to a rapid increase in demand, resulting in a housing bubble.
The housing bubble could burst and cause a collapse in prices if homebuilders keep building new homes even after sales and demand have begun to dwindle.
There are several factors that can increase housing demand including low mortgage rates, better welfare and easy access to bank loans.
When a central bank raises its benchmark interest rate, it may become harder to find new buyers due to higher cost of mortgage payments. Failure to pay a mortgage puts a homeowner at risk of defaulting and foreclosure, which could increase the number of available homes.
Typically, demand for housing decreases during economic downturns, especially recessions, which cause job losses, reduced savings, and a lack of open positions..
What is your sentiment on USD/HKD?
Vote to see Traders sentiment!
House prices in Hong Kong over the years
According to Global Property Guide's report from April 2022, in the past 13 years the Hong Kong property market enjoyed spectacular growth, with home prices rising by 275%. 
Notable growth of home prices in the Hong Kong real estate market happened in 2009 (28.5%), 2010 (21%), 2012 (25.7%), in 2014 (13.6%) and in 2017 (14.7%), according to the publication, which could be indicating a Hong Kong housing bubble. 
Land scarcity in the city which lies on the eastern Pearl River Delta in South China makes properties intrinsically expensive. This results in a perennial Hong Kong housing crisis.
Hong Kong still topped the list of the least affordable housing market with average house prices stood at 23.2 times of the average annual income, according to the 2022 Demographia International Housing Affordability report released in March 2022. 
For example, if a Hong Kong resident makes an average HKD 500,000 per year (USD 63,912.35), the price of a house would be HKD 11.6m (USD 1.48m).
According to the Hong Kong's Rating and Valuation Department, the Hong Kong housing market's growth momentum picked up in 2021 as the local Covid-19 situation stabilised, the economy gradually recovered, interest rates remained low and demand strong.
Domestic prices in the housing market in Hong Kong grew by 3.6% by December 2021 year-over-year (YoY). As many as 74,297 transactions were recorded in the primary and secondary Hong Kong housing market, representing a 24% increase from 2020. 
However, house prices in Hong Kong have trended down since the middle of 2021. The Centa-City Leading (CCL) Index stood at 162.31 points in the week of 7 to 13 November 2022, down from the peak of 191.34 points in the week of 2-8 August 2021. 
CCL index is a weekly house price index managed by Hong Kong's real estate agency, Centaline Group. It is based on the group's transaction price of the sale and purchase which reflect the latest price changes in the Hong Kong's housing market.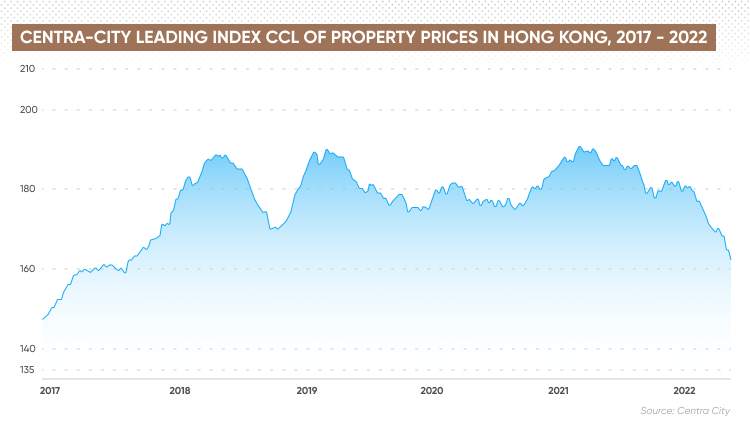 Factors driving property prices in Hong Kong
Let's examine what factors have been shaping residential property prices in Hong Kong in the past couple of years.
Covid-19 restrictions
Hong Kong removed its Covid-19 restrictions for incoming travellers on 26 September. Travellers arriving in Hong Kong are now permitted to self-monitor their health for three days at their residences or hotels.
Before boarding on a flight to Hong Kong, travellers are no longer required to take a PCR test. However, they must complete a rapid antigen test 24 hours prior departure.
Previously, visitors had to perform a self-quarantine for 21 days at designated hotels. And then it was revised to seven days with three days in authorised hotels before continuing for another four days at home. The restrictions proved challenging for foreign investors or mainland China investors to visit Hong Kong. 
Rising interest rates
The Hong Kong Monetary Authority (HKMA) has increased its policy base rate since March in lockstep with the US Federal Reserve's (Fed) policy tightening which has strengthened the US dollar against other currencies. 
HKMA has hiked its base rate to 4.25% in November, from 0.75% in March to prevent  outflows of the Hong Kong Dollar to the US dollar. Outflows of funds could weaken the currency below its peg to the US-dollar. 
Hong Kong has pegged its currency within HKD7.75 to HKD 7.85 to one US dollar since 1983. Meanwhile US to Hong Kong dollar (USD/HKD) was trading at 7.822 as of 18 November.
USD/HKD live exchange rate
"As the US continues to raise interest rates, there will be carry trades incentivised by the widened Hong Kong – US interest rate differentials, which will in turn drive funds to gradually flow from the Hong Kong dollar to the US dollar," said HKMA's Chief Executive Eddie Yue on 3 November. 
"The Hong Kong dollar interbank rates will rise gradually, offsetting the incentives for carry trades. This will stabilise the Hong Kong dollar within the 7.75-7.85 range."
Hong Kong's interbank rate, known as Hibor, has risen to 5.11% in November, from below 1% in January. Most mortgage rates in Hong Kong are tied to Hibor. The rising interest rate has dampened demand for property amid looming recession and expected slowing economic growth in mainland China. 
"Owing to uncertain market conditions and concern about interest rate hikes, a 'wait-and-see' attitude is prevalent among buyers and homeowners," said property consultant firm Knight Frank in its October report.
According to Hong Kong's government data, the index of home purchase affordability rose to around 73% due to rising mortgage rates.
Slowing economic growth
Hong Kong's gross domestic product (GDP) shrunk 4.5% in Q3 2022, widening from -1.3% in Q2, marking two consecutive quarters of negative growth, according the government data as of 11 November. 
The city's administration attributed the weak growth to external headwinds, including high inflation and monetary tightening in advanced countries. Its administration revised Hong Kong's real GDP growth forecast for 2022 to -3.2% from a forecast of -0.5% to 0.5% in August. 
The tightened financial conditions combined with weakened global and domestic economic outlook has softened the Hong Kong residential property market in Q3. Residential property transactions declined by 22% from the preceding quarter to a low level of 11, 683 of sales and purchase transactions. It was also 38% lower than a year earlier. 
"The worsening economy weighed on homebuyers' affordability and confidence," wrote Jones Lang LaSalle in its Hong Kong's November property report. 
Is Hong Kong housing price crash likely? 
With global and domestic economic slowdown unavoidable, what will be the risks of Hong Kong housing price crash?
Goldman Sachs forecast home prices in Hong Kong to drop by 30% by the end of 2023 as sharply increasing interest rates continue to make homes less affordable and repel investors from the market, South China Morning Post reported in early October. 
Trading Economics as of 18 November projected the housing price index in Hong Kong to stand at 213 points by the end of Q4 2022 and remain unchanged in 2023.
Meanwhile, analysts at Savills Research wrote: 
"With interest rates looking set to rise through the remainder of this year and early next, real interest rates could turn positive as early as the middle of 2023, prompting cash rich investors to be more cautious when making large capital investment decisions such as buying luxury properties."
Savills Research expected prices of luxury homes to fall by 10% for the full year of 2022 and drop by another 5% to 10% in 2023.
Final thoughts
Most analysts suggested that house prices in Hong Kong may continue the downtrend in 2023. Remember, however, that analysts' predictions for the Hong Kong housing  price crash may not be accurate. Always do your own research before trading, looking at the most recent news, technical and fundamental analysis, and a variety of analysts' commentary.
Please keep in mind that past performance does not guarantee future performance. Furthermore, never trade with money you cannot afford to lose.
FAQs
Does Hong Kong have a housing crisis?

Before 2021, Hong Kong had a housing crisis as land scarcity makes properties unaffordable for many residents.
Is there a housing bubble in Hong Kong?

Based on Global Property Guide data, house prices in Hong Kong had enjoyed exponential growth in recent years, however, no one can say for sure whether there is a Hong Kong property bubble.
Will house prices go up or down in 2023?

Trading Economics, as of 18 November, projected Hong Kong's housing price index to stagnate in 2023. Savills Research forecast luxury home prices to drop by 10% in 2022 and between 5%-10% downward adjustment in 2023. Note, however, that their predictions may be wrong.Always do your own research before trading, looking at the most recent news, technical and fundamental analysis, and a variety of analysts' commentary.
Related reading
https://capital.com/hong-kong-house-price-crash-world-most-expensive-housing-market